Tokyo, 08/07/2017
It's already summer and, as usual, we @ Ondalternativa fly to Japan where we'll be attending many lives of different metal bands around the hot and humid city of Tokyo. Our first band takes us to The Club Asia, in the heart of Shibuya (one of the most lively district in Tokyo) the night of the 8th of July. Are you wondering which band I'm talking about? Easy enough: Thousand Eyes.
Yes, you've already hard their name precisely last summer when we went to check them out in another venue in Shibuya. This Melodic Death Metal band born in 2011, is now celebrating their 5th anniversary and, for the occasion, what a better way than performing in front of their keen fans the whole first album plus a few songs from their last? Shall we begin? Lights off.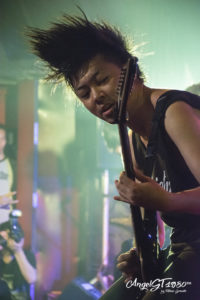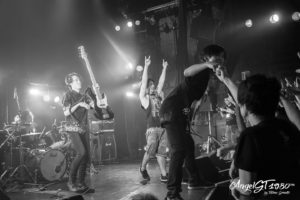 First band appearing on stage is called Hone Your Sense and please allow me to talk a little about them because they are totally worth it. We are standing on the Empire-Metalcore-Building here, with heavy riffs, double bass drumming and some good breakdowns, splashed with some Deathcore too (unbelievably catchy and of great impact on the people in da pit).
I was actually taking pictures for the event, but the feeling I had during their performance, was just to drop my camera off and join the moshpit (lol).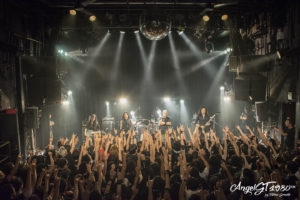 Time for Thousand Eyes to jump on the stage and the audience is literally going nuts. Starting with their first album, the band give us a superb performance from the beginning until, during the forth song when something happen to the drummer and the music suddenly stops (everyone can make mistakes, can they?).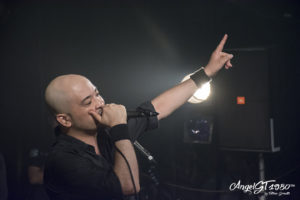 Dougen, the vocalist, soon starts to play jokes "Keep this song (this happening) in the depth of your liver… Just like me…" (Not too long ago, Dougen had to be hospitalized because of a liver problem) and everyone laughed, "My liver is ready!!" and so is their music that like a thunder in a clear sky, gives a bust of adrenaline to the people in the pit. Between a guitar solo and another, everybody seems to having real fun doing circle and mosh pit like in a frenzy.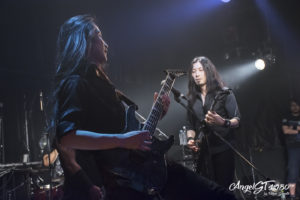 After the ninth song, both the guitarists (Toru and Kouta) gave us a proof of what they really are made of: double guitar solo right in the center of the stage and I have to admit that I'm honored to being able to see live such great guitarists.
A bunch of songs form their second album before leaving the set and having the audience calling for the usual encore (especially calling for Dougen –bold head- Dougen).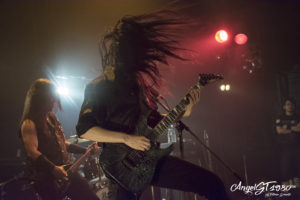 Once back on track, it is the time for Kouta to get the MC and to thank everyone in the venue for enjoying the show and be part of the night "Thousand Eyes was formed in 2012, and I'm so happy that we've been able to hold the event like this with many people." (Kouta and Toru started to talk about their former band "Kotamonia Mundi", that was named after the Italian metal band "Disarmonia Mundi").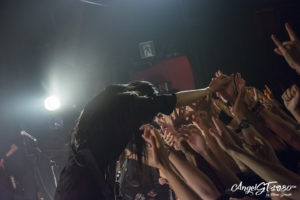 We were able also to listen to three songs of their upcoming new release and if you are a fan of Melodic Death Metal, you should definitely get it! Closing track of this amazing live is one of my favorite (right after Dead Night, Moonlight) "One Thousand Eyes", master peace of the band, being fast and perforating, with an astonishing speedy drums and melodic guitar solos.
Setlist:
Bloody Empire
Last Rebellion
God of Bind
Shades of Black
Dead Night, Moonlight
Sign
Divided World
Cardinal Sin
Eternal Flame
Black Sun
Guitar Solo
Suicide Machine
Endless Nightmare
Mirror Knight
Day of Salvation
Lost Forever
Bleeding Insanity
Encore 1
Dead Sorrow of Me
Encore 2
One Thousand Eyes
By AngelGT1980 – Thanks to Marika for the translation.
Italian version on Ondalternativa.it