Tokyo, 26/07/2017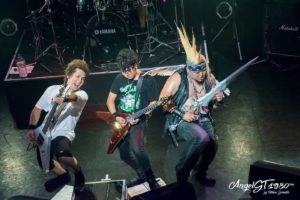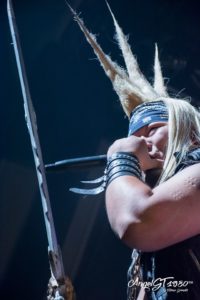 Another date, another pass, another live and I bet you couldn't guess where right? Shibuya? Naaah….. YES! Always around Tokyo, always drying the sweat that leaves our bodies in this hot and crazy Japanese summer.
This time we land at the Tsutaya O-West (in Shibuya… omg haven't I mentioned about it yet right? lol) and we are ready to take part in the "Phantom Excaliver vs The Kanmuri" event organised by Phantom Excaliver itself in order to celebrate the release of their new album "Maboroshi no seiken" (The Phantom Holy Sword).
First and foremost, I'd like to talk a little about this peculiar metal band of the land of the rising sun.
Born in 2011 by the hand of the leader Matsu (lead guitarist) in collaboration with Kacchang (Vo. and lyics writer; a good giant, but with a ponderous growling) by the name of "Phantom X" (in honour of the popular X-Japan) they change into "Phantom Excaliver" then in 2013, adding Thomas (drummer) and Dai-goro (base guitar) to their lines. In 2015 PE sign for Howling Bull and, after being involved in a terrible car accident but, unharmed, the band released their first album "Koutetsu no Chikai" (lit. Close to changing) with the awareness that life is a gift. Since then, their ascent became a tangible fact,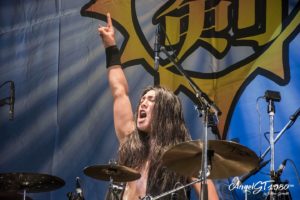 defining their metal as "Seishun" (youth) and making the promise to play at Tokyo Dome in 2022.
Now, I think it's time to move on to the live, where the band gives proof to have become more mature in just two years. Their music is a blast of fresh air, a mix od melodic death metal, thrash and metalcore able to drag everyone into it from the beginning to the end. The difference between the first and second album is significant, with much more intense and hammering rhythms but also with a touch of punk/hardcore that never hurts and makes the tracks more commercial and easier to listen to.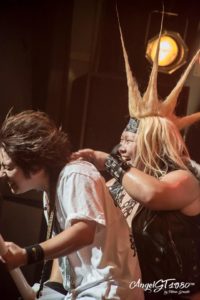 PE are four guys loaded with spirit and determination, able to make fun and laugh at any time (as a matter of fact, right after
the first song, the band starts to make fun of Kacchang and his little wings and his magic sword "Excaliver" bought on Amazon
– huge laughs form the audience). The best is yet to come though, when during the third song Kacchang decides to slowly jump onto the crowd in order to surf it back and forth until he's back on the stage (huge cliff-hanger lol).

On the tunes of "Pure Metal Magic" (one of my favourite and theme of this crazy Japanese summer) we can see the most sensitive side of the vocalist who blows kisses to the people in the pit before starts singing their forte "Remember X" and while he bops along to it slapping his belly, the crowd gets crazy.
Hammering rhythm and Matsu's guitar shoots fast riffs and power chords, while his solos will leave you bathless (not to mention his voice, a delightful high pitch resembling a veteran power metal vocalist's). Wild mosh and circle pits take place in da pit, people screaming and calling their names… what to say, their lives are the funniest I've ever seen, outlined by long MC in which all the members have and make fun of each other, and people love that.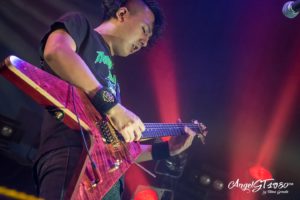 PE's metal and performances are really peculiar and if you want to see something new, something different, then I highly recommend to check Phantom Excaliver because bands like them, humble and genuine, are not so often easy to find… so then: HAIL EXCALIVER!
SETLIST:
SE. DAIHISYO GOLDEN EAGLE
01. MABOROSHI NO SEIKEN
02. EIYUU
03. SEISHUN BAKUSO MONOGATARI
04. METAL HEART
05. PURE METAL MAGIC
06. Remember X
07. TEXAS GENSO (Eng. Title: TEXAS FANTASY)
08. ANTHEM-HEAVY METAL JUDGEMENT-
09. ARMAGEDDON
10. KOUTETSU NO CHIKAI
11. MOTHER EARTH
ENCORE
01. Destiny~JINSEI NI SASAGETA Heavy Metal~ (Unreleased)
02. THE REBELLION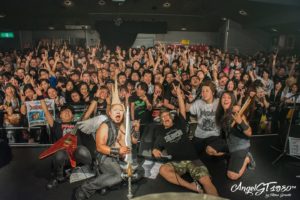 Official Website
Facebook
Twitter
鋼鉄の誓い (Koutetsu no Chikai) VIDEO
text and pictures by AngelGT1980 Photography (in collaboration with Marika)
Italian Version @ Ondalternativa.it